Advanced Génifique Sensitive, your new BFF for sensitive skin
Advanced Génifique and Advanced Génifique Sensitive, the care for soothing skin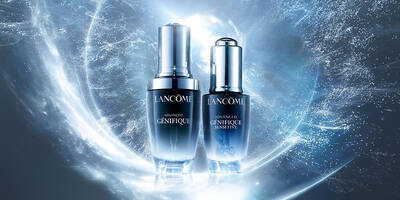 Irregular complexion, reactive and blotchy skin: women's faces become even more sensitive with the changes of the season. Don't panic! The Advanced Génifique and Advanced Génifique Sensitive duo upgrades your end-of-summer routine, leaving your skin soothed and radiant after the holidays.
End-of-summer symptoms
Skin irritations and blotches: After being exposed to the air and sun, the skin is more sensitive and fragile at the end of the summer, and may have reddish areas that cause discomfort.

Tightness and skin fatigue: Highly stressed during the holidays as it is exposed to external aggressors, the face tends to feel tight after taking a shower and make-up sets less easily.
Peaks of extreme sensitivity
Regardless of the age, type or color of their skin, all women experience peaks of extreme sensitivity at some point or other. Direct consequence? A real gene coupled with a reduction in the signs of youth, a repeatedly sensibilized skin and a weakening of the skin's barrier function.
The solution for soothing your skin
Advanced Génifique Sensitive by Lancôme is the perfect solution for preventing and treating peaks of extreme sensitivity, in order for skin to feel soothed once more. How?
1. With a fresh formula, activated at the last minute, enriched with a shot of antioxidants composed of ferulic acid and vitamin E.
2. Thanks to a cocktail of three portions of probiotics (lactobacillus, yeast and bifidobacteria) used for the very first time in a skin care product to help soothing skin and strenghten the skin's barrier.
The best technique: Use Advanced Génifique Sensitive every evening, as and when your skin feels discomfort. And Advanced Génifique in the morning, all year round.