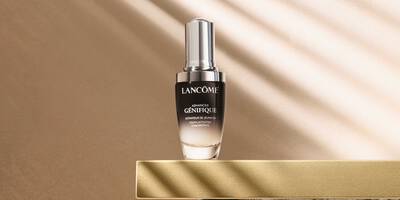 5 Reasons Why Lancôme's Advanced Génifique Youth Activating Serum
is Our No 1 Serum!
Searching for the perfect serum to get healthy, supple and glowing skin? Look no further. Lancôme's Advanced Génifique Youth Activating Serum is a must-have in every woman's skincare routine. It helps to fight the various ill effects of ageing on your skin such as dull skin, dark spots, fine lines, uneven skin tone, and wrinkles. Our Génifique serum is formulated with the latest technology and ingredients to battle the signs of ageing.

You're one step away from restoring your skin's youthful glow. Here are the top five reasons why this is the best serum for glowing skin.
1. Improves skin quality
Your skin is home to innumerable microorganisms that together create the skin microbiome. It's an ecosystem that safeguards the appearance of your skin. As you age, certain factors alter the structure of the skin's microbes. Hence, the need to strengthen this essential surface of the skin becomes crucial. Lancôme Advanced Génifique Youth Activating Serum. harnesses the power of strengthened microbiomes which results in faster skin recovery. In 7 days, the quality of your skin is improved as it works to strengthen the skin's protective moisture barrier.
2. Best serum for wrinkles
A strong and balanced microbiome helps your skin recover from within. This helps in decreasing the appearance of wrinkles. Use the Genifique Youth Activating serum and witness increased radiance and reduction in the appearance of wrinkles by 46% in 8 weeks.
3. Best serum for glowing skin
A healthy skin barrier translates to healthy, glowing skin. This face serum for women creates a robust, stronger skin biome which serves as a barrier against external aggressors. Try our best-selling face serum for women and in 7 days, notice that the health of skin is improved, and it feels smooth, elastic, and plump.
4. Powerful ingredients
Lancôme's Advanced Génifique Youth Activating Concentrate boasts of powerful, skin-effective ingredients such as Hyaluronic acid which is known to enhance moisture retention and hydrates the skin. This helps in keeping it supple and glowing. Vitamin C helps brighten the skin and lends it a smooth texture, while 10% Bifidus Prebiotic supports an environment that is conducive to the growth of good bacteria on the skin's surface. All these ingredients work to strengthen your skin's protective moisture barrier.
5. Suits all skin types
One of the best face serums for women, it harnesses the wellness of microbiome science to create a solution that is favourable for women of all ages, skin types and tones. However, the results may vary for different individuals. Available in 20ml, 30ml, 50ml and 75ml – you can choose a size that's convenient for you.
No one can take better care of us better than ourselves. It's time to indulge in some self-love and gift
yourself Lancôme's best serum for glowing skin. Head here to get yours now!