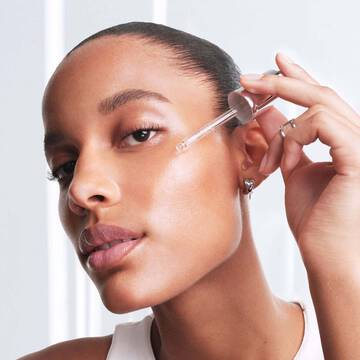 Build the Best Anti-Ageing Skincare Routine with This Step-By-Step Guide
Wondering what is the best anti-ageing skincare routine for your matured skin? You've arrived at the right place! Be it wrinkles, dark spots, or dryness - we've created an effective anti-ageing skincare regime with luxurious products to resolve all your ageing skin woes. So, let's get started with this anti-ageing regime.
Anti-Ageing Skincare Routine for the Day
Follow this anti-ageing skincare routine in a step-by-step manner to enjoy happy, healthy, younger-looking skin.
1. Cleanse The Skin
Begin your morning using a cleanser suitable for your skin type. It helps get rid of dirt, impurities, and makeup residue. This is an essential step in your anti-ageing routine as it assists in creating a clean base to layer skin care products.
2. Apply Anti-Ageing Face Serum
Give your cleansed skin a dose of potent ingredients with an anti-ageing face serum. Try our Genifique Youth Activating Serum which is powered by microbiome science. It is the best anti-ageing face serum which recovers your skin barrier, improves skin quality and makes your skin visibly radiant in just 7 days.
3. Target The Under Eyes
Under eye bags and puffiness are the first signs of ageing. Get rid of them with our Advanced Génifique Yeux Light Pearl Eye And Lash Concentrate. It is the best anti-ageing eye serum that helps depuff your delicate under eyes, smoothes fine lines and makes lashes feel stronger.
4. Moisture Your Skin
An ample amount of skin hydration can help you to keep signs of ageing at bay. To do so, use our Renergie Multi Lift Ultra Day Cream which counteracts dryness and reduces dark spots to reveal supple skin.
5. Apply Sunscreen
Complete your anti-ageing regime by using our UV Expert Aqua Gel Sunscreen which is a broad-spectrum sunscreen. It has a lightweight texture provides SPF 50 PA++++ protection and a natural glow finish to your skin.
Anti-Ageing Skin Care Routine for the Night
It is essential to follow a night time skincare routine as it helps your skin to re-energise as you take a sound sleep. You can create the best night time anti-ageing skincare routine with simple tweaks made to your day time routine itself. Let's explore that.
1. Use A Makeup Remover
Wipe off the oil and dirt on your face with Lancôme Bi-Facil Eye Makeup Remover. In one swipe, it gets rid of heavy makeup without leaving a greasy residue.
2. Cleanse, Tone & Target
Double-cleanse your face with a hydrating cleanser suitable for your skin type. Follow it up with a toner and an anti-ageing face serum like our Génifique Youth Activating Serum, just as you would do during the day.
3. Moisturise
Seal your skin with moisture by the best anti-ageing night cream like our Hydra Zen Anti-Stress Night Cream. It deeply moisturises and replenishes your skin.
While we can't rewind time, this best anti-ageing routine can surely bring your youthful skin back! So, shop for these skin-nourishing products right away. To make your purchase more exciting, here's a treat! Get 10% off on your first order and 2 complimentary samples on every order.