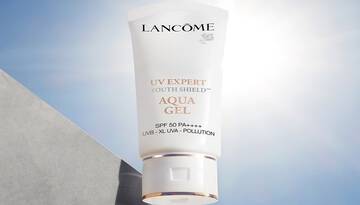 5 Reasons Why Sunscreen Is Important In Your Skincare Routine
Have you been skipping out on sunscreen lately? No matter what the weather is like (indoors or outdoors) applying sunscreen is a must. Every dermatologist swears by this statement. But have you ever wondered why is sunscreen important in skincare?

Apart from shielding our skin from harmful UV rays, it does so much more. We have decoded the benefits of using sunscreen on the face and why it is important to wear sunscreen every day. Read on to learn more!
1. Prevents Signs Of Premature Ageing
UVA and UVB rays tend to alter the skin's collagen levels. It leads to skin concerns such as wrinkles and dark spots. Sunscreen, on the other hand, blocks these harmful rays. This is why using sunscreen is important as it helps in delaying signs of ageing.
2. Prevents Sunburn
If you have sensitive skin that gets easily sunburned, you should be aware of the importance of sunscreen in your daily routine. Sunburns can make your skin more prone to redness, peeling, swelling and blisters. One of the benefits of using sunscreen on your face is that your skin stays protected from these problems. This is why using sunscreen is important, not just for beauty but for your skin's health too. The key is to use a broad-spectrum sunscreen like the Lancôme UV Expert Aqua Gel Sunscreen. It offers SPF 50 PA++++ protection and a natural glow to your skin.
3. Prevents Discolouration
Harmful UV rays can cause skin discolouration leading to sun spots. A protective layer of sunscreen can protect your skin and prevent it from such skin concerns. It can also keep your skin even toned. Therefore, you should use sunscreen every day.

Pro tip - Dermatologists also recommended reapplying sunscreen every three hours for maximum protection.
4. Blocks Blue Light
Blue light emitted by the screen hampers your skin's health. It damages the skin barrier, causes inflammation and makes your skin dry. Hence, using sunscreen is important in a skincare routine, especially if you have excessive screen time.
5. Improves Skin's Health
As sunscreen shields your skin from pollution and UV rays, it also safeguards the essential proteins required for healthy skin like collagen and elastin. This is why using SPF is very important.

You can also look for ingredients in your sunscreen that cares for your skin's health.
Our UV Expert Aqua Gel Sunscreen can be a great pick for you. It contains the Edelweiss flower which strengthens the skin barrier for healthier-looking skin.
Now that you know the importance of sunscreen and why it is conclusive to wear it daily, it's time to add sunscreen to your shopping list. Head to the Lancôme website and shop for the best gel-based protective sunscreen now!

P.S. - you can avail 10% discount on the first order and 2 complimentary samples on every order on our website. What's even more fun is that we deliver our products in a luxe pink box, making it an ideal gifting option as well.