Why Dehydration Calls For A Serum for Dry Skin
Your skin feeling extra dry lately? We have a solution for that.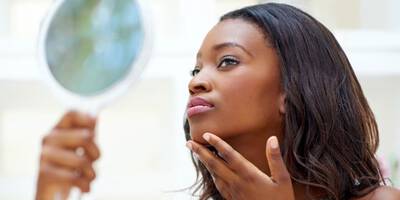 Dry skin is a familiar thing to most of us. Your face feels dull, and tight; foundation doesn't look as good. Some of us only get it in the wintertime or when we're stressed, while others deal with dryness 365 days a year. The good news: Dry skin can be easily corrected. Here, we explain what's causing your parched skin, the link between dry skin and aging, and exactly what you can do to mend it (like using one of our favorite face serums for dry skin). Read up!
The difference between dryness and dehydration
Understanding the cause of your scaly skin means knowing the difference between dry skin and dehydration. Dry skin is an inherited skin type, like oily or combination skin.
Dehydration, on the other hand, is a skin condition caused by a lack of water in the stratum corneum (the top layer of your skin) and is a common symptom of dry skin. Outside influences can have an impact on your skin's moisture levels: Whether it's harsh weather, a change in season, pollution, sunburn, travel, not drinking enough water, or skipping your moisturizing serum, they all affect the quality of your skin.
How to break the dry skin cycle
Dry skin can be a cyclical thing, and our lifestyles are a big culprit: Not getting enough sleep, forgetting to drink water, a poor diet, smoking, travel, stress and even certain skincare products can all dehydrate skin. Even if your skin is on the mend, you can easily fall back into the dry skin trap if you aren't taking good care of your face and body. Make a clear effort to get enough sleep, stay hydrated, and practice good skincare habits—that means cleansing, regularly applying a face serum, and moisturizing twice a day, every day.
Extreme weather temperatures and pollution can also have a negative impact on your skin. While we can't do much about that, it's another reason why good skincare matters. A hydrating serum for dry skin will help defend your skin from the elements and prevent moisture loss.
Your Dry Skin Solution: A hydrating serum that strengthens your skin barrier
A face serum for dry skin is your go-to beauty tool whenever you feel that your skin needs a dose of hydration or extra help preventing water loss. When it comes to the latter, the first step is finding something that restores your skin barrier, and for that you can grab our anti-aging serum Youth Activating Concentrate Advanced Génifique . This serum for dry skin contains a duo of probiotic fractions to help strengthen your skin barrier. If, however, your skin has gotten so dry that it's become sensitive—meaning it feels hot and red—you might choose a more soothing option, like the face serum for sensitive skin Advanced Génifique Sensitive.
Advanced Génifique Sensitive works in perfect harmony with the iconic serum Advanced Génifique. Whenever your skin is feeling sensitive, introduce Advanced Génifique Sensitive into your evening face care routine after cleansing and before moisturizing for thirty days. What makes Advanced Génifique Sensitive so innovative is its freshly activated dual concentrate enriched with probiotic fractions and antioxidants (Vitamin E and ferulic acid). The two formulae are mixed together right before you start using it (to keep them fresh), creating an effective face serum that attenuates the signs of sensitivity, and helps support the skin barrier and prevent water loss. Consider this hydrating serum your ally in the protection against daily aggressors and cutaneous aging.
Then use another serum that adds moisture to skin
You can also add a moisturizing serum to your face care routine that works to nourish skin. Absolue Oleo-Serum is a serum for dry skin that contains a mixture of citrus essential oil, camellia and babassu oils to bring a radiant feeling, hydrate your skin and to reduce the appearance of signs of ageing. Then finish with Absolue L'Extrait, our most luxurious hydrating cream, for skin that's nourished.