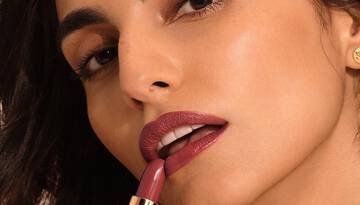 How to Make Your Lipstick Last Longer?
Does your holy-grail lipstick tend to wear off in just a few hours of application? The need for constant touch-ups on a hectic work day or even on a date night can be difficult. What you need to learn is some tips on how to make your lipstick stay longer.

Worry not, the team at Lancôme is here to save the day with the top five expert tips on how to make your lipstick last longer. Explore now!
1. Exfoliate Your Lips
Hydrated lips are the key to making your lipstick last longer. It helps in acting as a seamless base for your lipstick. Begin with a gentle exfoliator to get rid of dead skin cells. Follow it up with your favourite moisturising lip balm. Your lips are ready to dazzle with beautiful lip colour.
2. Choose A Long-Lasting Formula
Using a long-lasting lipstick formula is the easiest way to make your lipstick last longer. Pick our L'Absolu Rouge Drama Ink Lipstick which delivers a semi-matte finish and a long-lasting wear time of up to eight hours. You can take this beautiful lipstick from work to a sundowner too.
3. Blot Your Lips
Blotting your lips helps in removing the excess lip colour that tends to wear off. It's the one that's present on the surface of your lips. To make your lipstick long-lasting, use a tissue to blot off and gently dab it on your lip. It will take off the excess lip colour. You will be left with just the right amount of lipstick that won't budge.
4. Translucent Powder For The Win!
If you are wondering, 'How to make your creamy lipstick long-lasting?', then a dab of translucent powder can do the trick. Apply your favourite shade from our L'Absolu Rouge Intimatte Lipsticks. These offer a soft matte finish and intense colour. You won't feel a thing as these have a comfortable formula that lasts up to 12 hours. Now, place a tissue over your blotted lips and dab some translucent powder on. It will mattify your lipstick and make it last longer!
5. Lay Low On Oily Food
Wondering how to make lipstick stay on longer? Well, in that case, you would want to avoid oily foods. Oil works as a makeup-remover emollient. It can smudge your lipstick and make it look messy. You will be left with uneven, crusty lip colour which requires a constant touch-up.