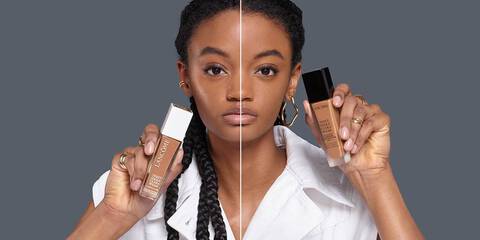 Here's How to Select the Perfect Foundation Shade for Your Skin Online
The perfect foundation shade is the secret to creating flawless makeup looks. But finding the right shade online can seem like a task. Whether in-store or online - multiple shades, formulas and coverage aspects can leave you puzzled.

So, how to select a foundation shade online? Well, the Lancôme experts have decoded some easy ways to help you choose the right foundation shade. Read on to know more!
1. Take A Closer Look At Your Skin Tone
Knowing how to select foundation shade requires a clear understanding of your skin tone. It refers to your natural complexion which could be light, medium, deep or fair. In case you have an uneven skin tone, consider the skin tone of your jawline as the guide for finding your foundation colour match.
2. Identify Your Undertone
Your foundation colour should match your undertone. It's the colour that appears underneath your skin which is categorised as warm, cool or neutral. Even though your skin tone might differ, the undertone remains the same.

There are two ways to check your undertone. First, look at your veins in natural light:
If your veins appear blue or purplish, you have cool undertones.
If your veins appear green-olive then you have warm undertones.
If your veins match the colour of your skin then you have neutral undertones.
Another way to find out your undertones is by checking which metallic colour, gold or silver, suits your skin.
Gold - This colour flatters skin with warm undertones.
Silver - This colour flatters skin with cool undertones.
If both colours look beautiful on you then count yourself in the neutral undertone club.
3. Try Foundations Virtually with Lancome
Thanks to the advancement in technology now you can try foundations virtually. At Lancôme, we've created a try-on feature that makes the process of finding the perfect foundation shade seamless.

Here's how you can use our try-on feature in three easy steps:
Head to our Teint Idôle Ultra Wear Foundation page. It's a long-wearing foundation, perfect for women who love full coverage. This foundation is made available in different unique shades to suit all skin types.



For compact foundations, Teint Idole Ultra Wear Compact Foundation is the best choice. It's ideal for women on the go. This foundation provides a smooth finish and a natural glow to your skin.

Select the try-on option for the foundation of your choice. You can use a live camera, upload a photo, or choose a model with a similar skin tone to yours.


Select the foundation shade that you think would suit you. We recommend giving this tool multiple tries to get that perfect foundation match.
Now that you've discovered ways on how to find the perfect foundation shade, you will never choose the wrong shade. So, pick your suitable Teint Idôle Ultra Wear Foundation shade and ace any look. What's more interesting? You can avail 10% off on your first purchase and get 2 complimentary samples on every order at Lancôme.