BUY ANY SKINCARE/MAKEUP WORTH RS 4500 AND GET A LVEB DUO FREE
L'ABSOLU ROUGE INTIMATTE
SOFT BLURRED MATTE LIPSTICK
Refillable Intimatte dresses your lips with a soft color veil. it offers a no-compromise result, com ... Read full description
Old price
New price
₹3,200
(Inclusive of Taxes)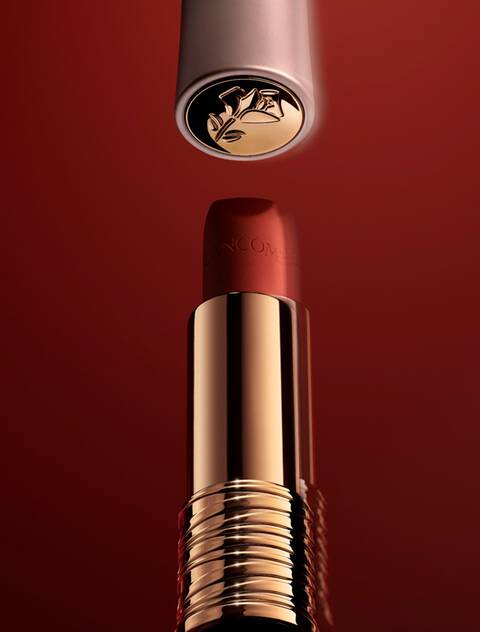 PRODUCT BENEFITS
SOFT BLURRED MATTE LIPSTICK
Lancôme L'Absolu Rouge Intimatte is a soft blurred matte lipstick with a buildable, lightweight and comfortable formula that glides effortlessly onto lips. For caring plush comfort and bare lips feel. Masterfully encapsulated in a new high-end rose gold luxury case made in France, revealing the signature tiny waist of L'Absolu Rouge and a cult golden ring.
- SOFT BLURRED MATTE FINISH
- BARE LIPS FEEL
- LONG-LASTING PLUSH COMFORT FOR 12 HOURS
WHAT MAKES IT DIFFERENT
The blurred matte effect you want, in the soft wear you seek. Soft blurred matte lipstick infused with caring Grand Rose Extracts and ceramide for long-lasting plush comfort. Enriched with lightweight pigments for a sensual blurred matte color veil on the lips. Let the soft touch of L'Absolu Rouge Intimatte melt in a long-lasting embrace and give a new dimension to the ultimate blurred matte look: apply it effortlessly and dab the color gently with the tip of your finger for enhanced blurry lips.
What else you need to know
Our L'Absolu Rouge Intimatte has been designed with an eco-responsible approach to encourage responsible consumption. Simply insert L'Absolu Rouge refill into the golden ring base and push firmly until it clicks.
Country Of Origin:- France.
Manufacturer Name and Address:- Beaute Recherche & Industries (BRI), Adresse Comptable: Route DE Noyon 60310 Lassigny France
Importer name and Address:- L'Oréal India Pvt Ltd, A Wing, 8th Floor, Marathon Futurex, N M Joshi Marg, Lower Parel, Mumbai, India, 400013.
Ingredients
Easy to spread - with a soft, creamy feeling during application - thanks to its soft, gliding complex.
Enriched by hemispherical fillers to create a unique result: translucent matte lips.
GRAND ROSE EXTRACTS

Enriched with signature blend of high-performance active ingredients for caring plush comfort

CERAMIDE

Major component naturally found in skin that helps reinforce barrier function, in order to prevent dryness and to offer a moisturized lips sensation

LIGHTWEIGHT PIGMENTS

For a luminous and sensual blurred matte color veil on lips
Full ingredient list
130 - PEAU CONTRE PEAU
DIMETHICONE ● BIS-DIGLYCERYL POLYACYLADIPATE-2 ● PHENYL TRIMETHICONE ● HYDROGENATED POLYISOBUTENE ● TRIDECYL TRIMELLITATE ● ISOHEXADECANE ● METHYLSILANOL/SILICATE CROSSPOLYMER ● HYDROGENATED JOJOBA OIL ● DIMETHICONE CROSSPOLYMER ● ISOSTEARYL ISOSTEARATE ● PARAFFIN ● CERA MICROCRISTALLINA / MICROCRYSTALLINE WAX / CIRE MICROCRISTALLINE ● KAOLIN ● NYLON-12 ● VINYL DIMETHICONE/METHICONE SILSESQUIOXANE CROSSPOLYMER ● CI 15985 / YELLOW 6 LAKE ● CI 45410 / RED 28 LAKE ● POLYETHYLENE ● ROSA CENTIFOLIA FLOWER EXTRACT ● ROSA DAMASCENA FLOWER OIL ● AQUA / WATER / EAU ● GLUCOMANNAN ● TRIETHOXYSILYLETHYL POLYDIMETHYLSILOXYETHYL DIMETHICONE ● TRIHYDROXYSTEARIN ● SODIUM HYALURONATE ● ALUMINA ● ALCOHOL ● ISOPROPYL TITANIUM TRIISOSTEARATE ● PROPYLENE GLYCOL ● HYDROXYPALMITOYL SPHINGANINE ● HYDROXYPROPYL TETRAHYDROPYRANTRIOL ● SYNTHETIC WAX ● ETHYLHEXYL PALMITATE ● TOCOPHEROL ● TOCOPHERYL ACETATE ● PENTAERYTHRITYL TETRA-DI-T-BUTYL HYDROXYHYDROCINNAMATE ● CI 15850 / RED 7 ● CI 77891 / TITANIUM DIOXIDE ● CI 19140 / YELLOW 5 LAKE ● GERANIOL ● HYDROXYCITRONELLAL ● CITRONELLOL ● HEXYL CINNAMAL ● BENZYL ALCOHOL ● PARFUM / FRAGRANCE ●
135 - DOUCE CHALEUR
DIMETHICONE ● BIS-DIGLYCERYL POLYACYLADIPATE-2 ● PHENYL TRIMETHICONE ● HYDROGENATED POLYISOBUTENE ● TRIDECYL TRIMELLITATE ● ISOHEXADECANE ● HYDROGENATED JOJOBA OIL ● DIMETHICONE CROSSPOLYMER ● METHYLSILANOL/SILICATE CROSSPOLYMER ● ISOSTEARYL ISOSTEARATE ● PARAFFIN ● MICA ● KAOLIN ● NYLON-12 ● VINYL DIMETHICONE/METHICONE SILSESQUIOXANE CROSSPOLYMER ● CERA MICROCRISTALLINA / MICROCRYSTALLINE WAX / CIRE MICROCRISTALLINE ● CI 45410 / RED 28 LAKE ● CI 15985 / YELLOW 6 LAKE ● CI 77492 / IRON OXIDES ● POLYETHYLENE ● ROSA CENTIFOLIA FLOWER EXTRACT ● ROSA DAMASCENA FLOWER OIL ● AQUA / WATER / EAU ● GLUCOMANNAN ● TRIETHOXYSILYLETHYL POLYDIMETHYLSILOXYETHYL DIMETHICONE ● TRIHYDROXYSTEARIN ● SODIUM HYALURONATE ● ALUMINA ● ALCOHOL ● ISOPROPYL TITANIUM TRIISOSTEARATE ● PROPYLENE GLYCOL ● HYDROXYPALMITOYL SPHINGANINE ● HYDROXYPROPYL TETRAHYDROPYRANTRIOL ● SYNTHETIC WAX ● ETHYLHEXYL PALMITATE ● TOCOPHEROL ● TOCOPHERYL ACETATE ● PENTAERYTHRITYL TETRA-DI-T-BUTYL HYDROXYHYDROCINNAMATE ● CI 15850 / RED 7 ● CI 77499 / IRON OXIDES ● CI 77891 / TITANIUM DIOXIDE ● GERANIOL ● HYDROXYCITRONELLAL ● CITRONELLOL ● HEXYL CINNAMAL ● BENZYL ALCOHOL ● PARFUM / FRAGRANCE ●
196 - FRENCH TOUCH
DIMETHICONE ● BIS-DIGLYCERYL POLYACYLADIPATE-2 ● PHENYL TRIMETHICONE ● HYDROGENATED POLYISOBUTENE ● TRIDECYL TRIMELLITATE ● ISOHEXADECANE ● HYDROGENATED JOJOBA OIL ● DIMETHICONE CROSSPOLYMER ● METHYLSILANOL/SILICATE CROSSPOLYMER ● CI 15985 / YELLOW 6 LAKE ● ISOSTEARYL ISOSTEARATE ● PARAFFIN ● MICA ● KAOLIN ● NYLON-12 ● VINYL DIMETHICONE/METHICONE SILSESQUIOXANE CROSSPOLYMER ● CERA MICROCRISTALLINA / MICROCRYSTALLINE WAX / CIRE MICROCRISTALLINE ● POLYETHYLENE ● ROSA CENTIFOLIA FLOWER EXTRACT ● ROSA DAMASCENA FLOWER OIL ● AQUA / WATER / EAU ● GLUCOMANNAN ● TRIETHOXYSILYLETHYL POLYDIMETHYLSILOXYETHYL DIMETHICONE ● TRIHYDROXYSTEARIN ● SODIUM HYALURONATE ● ALCOHOL ● ISOPROPYL TITANIUM TRIISOSTEARATE ● PROPYLENE GLYCOL ● HYDROXYPALMITOYL SPHINGANINE ● HYDROXYPROPYL TETRAHYDROPYRANTRIOL ● SYNTHETIC WAX ● ETHYLHEXYL PALMITATE ● TOCOPHEROL ● TOCOPHERYL ACETATE ● PENTAERYTHRITYL TETRA-DI-T-BUTYL HYDROXYHYDROCINNAMATE ● CI 15850 / RED 7 ● CI 77491 / IRON OXIDES ● CI 77492 / IRON OXIDES ● CI 77499 / IRON OXIDES ● GERANIOL ● HYDROXYCITRONELLAL ● CITRONELLOL ● HEXYL CINNAMAL ● BENZYL ALCOHOL ● PARFUM / FRAGRANCE ●
218 - PETITE MAILLE
DIMETHICONE ● BIS-DIGLYCERYL POLYACYLADIPATE-2 ● PHENYL TRIMETHICONE ● HYDROGENATED POLYISOBUTENE ● TRIDECYL TRIMELLITATE ● ISOHEXADECANE ● HYDROGENATED JOJOBA OIL ● DIMETHICONE CROSSPOLYMER ● METHYLSILANOL/SILICATE CROSSPOLYMER ● ISOSTEARYL ISOSTEARATE ● PARAFFIN ● MICA ● KAOLIN ● NYLON-12 ● VINYL DIMETHICONE/METHICONE SILSESQUIOXANE CROSSPOLYMER ● CERA MICROCRISTALLINA / MICROCRYSTALLINE WAX / CIRE MICROCRISTALLINE ● CI 77891 / TITANIUM DIOXIDE ● CI 77491 / IRON OXIDES ● POLYETHYLENE ● ROSA CENTIFOLIA FLOWER EXTRACT ● ROSA DAMASCENA FLOWER OIL ● AQUA / WATER / EAU ● GLUCOMANNAN ● TRIETHOXYSILYLETHYL POLYDIMETHYLSILOXYETHYL DIMETHICONE ● TRIHYDROXYSTEARIN ● SODIUM HYALURONATE ● ALUMINA ● ALCOHOL ● ISOPROPYL TITANIUM TRIISOSTEARATE ● PROPYLENE GLYCOL ● HYDROXYPALMITOYL SPHINGANINE ● HYDROXYPROPYL TETRAHYDROPYRANTRIOL ● SYNTHETIC WAX ● ETHYLHEXYL PALMITATE ● TOCOPHEROL ● TOCOPHERYL ACETATE ● PENTAERYTHRITYL TETRA-DI-T-BUTYL HYDROXYHYDROCINNAMATE ● CI 15850 / RED 7 ● CI 77492 / IRON OXIDES ● CI 77499 / IRON OXIDES ● GERANIOL ● HYDROXYCITRONELLAL ● CITRONELLOL ● HEXYL CINNAMAL ● BENZYL ALCOHOL ● PARFUM / FRAGRANCE ●
226 - MISE A NU
DIMETHICONE ● BIS-DIGLYCERYL POLYACYLADIPATE-2 ● PHENYL TRIMETHICONE ● HYDROGENATED POLYISOBUTENE ● TRIDECYL TRIMELLITATE ● ISOHEXADECANE ● HYDROGENATED JOJOBA OIL ● DIMETHICONE CROSSPOLYMER ● METHYLSILANOL/SILICATE CROSSPOLYMER ● ISOSTEARYL ISOSTEARATE ● PARAFFIN ● CI 77891 / TITANIUM DIOXIDE ● MICA ● KAOLIN ● NYLON-12 ● VINYL DIMETHICONE/METHICONE SILSESQUIOXANE CROSSPOLYMER ● CERA MICROCRISTALLINA / MICROCRYSTALLINE WAX / CIRE MICROCRISTALLINE ● POLYETHYLENE ● ROSA CENTIFOLIA FLOWER EXTRACT ● ROSA DAMASCENA FLOWER OIL ● AQUA / WATER / EAU ● GLUCOMANNAN ● TRIETHOXYSILYLETHYL POLYDIMETHYLSILOXYETHYL DIMETHICONE ● TRIHYDROXYSTEARIN ● SODIUM HYALURONATE ● ALUMINA ● ALCOHOL ● ISOPROPYL TITANIUM TRIISOSTEARATE ● PROPYLENE GLYCOL ● HYDROXYPALMITOYL SPHINGANINE ● HYDROXYPROPYL TETRAHYDROPYRANTRIOL ● SYNTHETIC WAX ● ETHYLHEXYL PALMITATE ● TOCOPHEROL ● TOCOPHERYL ACETATE ● PENTAERYTHRITYL TETRA-DI-T-BUTYL HYDROXYHYDROCINNAMATE ● CI 15850 / RED 7 ● CI 77491 / IRON OXIDES ● CI 77492 / IRON OXIDES ● CI 77499 / IRON OXIDES ● GERANIOL ● HYDROXYCITRONELLAL ● CITRONELLOL ● HEXYL CINNAMAL ● BENZYL ALCOHOL ● PARFUM / FRAGRANCE ●
274 - FRENCH TEA
DIMETHICONE ● BIS-DIGLYCERYL POLYACYLADIPATE-2 ● PHENYL TRIMETHICONE ● HYDROGENATED POLYISOBUTENE ● TRIDECYL TRIMELLITATE ● ISOHEXADECANE ● HYDROGENATED JOJOBA OIL ● DIMETHICONE CROSSPOLYMER ● METHYLSILANOL/SILICATE CROSSPOLYMER ● ISOSTEARYL ISOSTEARATE ● PARAFFIN ● MICA ● KAOLIN ● NYLON-12 ● VINYL DIMETHICONE/METHICONE SILSESQUIOXANE CROSSPOLYMER ● CERA MICROCRISTALLINA / MICROCRYSTALLINE WAX / CIRE MICROCRISTALLINE ● CI 77491 / IRON OXIDES ● CI 77891 / TITANIUM DIOXIDE ● POLYETHYLENE ● ROSA CENTIFOLIA FLOWER EXTRACT ● ROSA DAMASCENA FLOWER OIL ● AQUA / WATER / EAU ● GLUCOMANNAN ● TRIETHOXYSILYLETHYL POLYDIMETHYLSILOXYETHYL DIMETHICONE ● TRIHYDROXYSTEARIN ● SODIUM HYALURONATE ● ALUMINA ● ALCOHOL ● ISOPROPYL TITANIUM TRIISOSTEARATE ● PROPYLENE GLYCOL ● HYDROXYPALMITOYL SPHINGANINE ● HYDROXYPROPYL TETRAHYDROPYRANTRIOL ● SYNTHETIC WAX ● ETHYLHEXYL PALMITATE ● TOCOPHEROL ● TOCOPHERYL ACETATE ● PENTAERYTHRITYL TETRA-DI-T-BUTYL HYDROXYHYDROCINNAMATE ● CI 15850 / RED 7 ● CI 77492 / IRON OXIDES ● CI 77499 / IRON OXIDES ● GERANIOL ● HYDROXYCITRONELLAL ● CITRONELLOL ● HEXYL CINNAMAL ● BENZYL ALCOHOL ● PARFUM / FRAGRANCE ●
276 - COSY SEXY
DIMETHICONE ● BIS-DIGLYCERYL POLYACYLADIPATE-2 ● PHENYL TRIMETHICONE ● HYDROGENATED POLYISOBUTENE ● TRIDECYL TRIMELLITATE ● ISOHEXADECANE ● HYDROGENATED JOJOBA OIL ● DIMETHICONE CROSSPOLYMER ● METHYLSILANOL/SILICATE CROSSPOLYMER ● ISOSTEARYL ISOSTEARATE ● PARAFFIN ● MICA ● KAOLIN ● NYLON-12 ● VINYL DIMETHICONE/METHICONE SILSESQUIOXANE CROSSPOLYMER ● CERA MICROCRISTALLINA / MICROCRYSTALLINE WAX / CIRE MICROCRISTALLINE ● CI 77891 / TITANIUM DIOXIDE ● CI 77491 / IRON OXIDES ● CI 77492 / IRON OXIDES ● POLYETHYLENE ● ROSA CENTIFOLIA FLOWER EXTRACT ● ROSA DAMASCENA FLOWER OIL ● AQUA / WATER / EAU ● GLUCOMANNAN ● TRIETHOXYSILYLETHYL POLYDIMETHYLSILOXYETHYL DIMETHICONE ● TRIHYDROXYSTEARIN ● SODIUM HYALURONATE ● ALUMINA ● ALCOHOL ● ISOPROPYL TITANIUM TRIISOSTEARATE ● PROPYLENE GLYCOL ● HYDROXYPALMITOYL SPHINGANINE ● HYDROXYPROPYL TETRAHYDROPYRANTRIOL ● SYNTHETIC WAX ● ETHYLHEXYL PALMITATE ● TOCOPHEROL ● TOCOPHERYL ACETATE ● PENTAERYTHRITYL TETRA-DI-T-BUTYL HYDROXYHYDROCINNAMATE ● CI 15850 / RED 7 ● CI 77499 / IRON OXIDES ● GERANIOL ● HYDROXYCITRONELLAL ● CITRONELLOL ● HEXYL CINNAMAL ● BENZYL ALCOHOL ● PARFUM / FRAGRANCE ●
278 - COMME UN CALIN
DIMETHICONE ● BIS-DIGLYCERYL POLYACYLADIPATE-2 ● PHENYL TRIMETHICONE ● HYDROGENATED POLYISOBUTENE ● TRIDECYL TRIMELLITATE ● ISOHEXADECANE ● HYDROGENATED JOJOBA OIL ● DIMETHICONE CROSSPOLYMER ● METHYLSILANOL/SILICATE CROSSPOLYMER ● ISOSTEARYL ISOSTEARATE ● PARAFFIN ● CI 77491 / IRON OXIDES ● MICA ● KAOLIN ● NYLON-12 ● VINYL DIMETHICONE/METHICONE SILSESQUIOXANE CROSSPOLYMER ● CERA MICROCRISTALLINA / MICROCRYSTALLINE WAX / CIRE MICROCRISTALLINE ● CI 77891 / TITANIUM DIOXIDE ● POLYETHYLENE ● ROSA CENTIFOLIA FLOWER EXTRACT ● ROSA DAMASCENA FLOWER OIL ● AQUA / WATER / EAU ● GLUCOMANNAN ● TRIETHOXYSILYLETHYL POLYDIMETHYLSILOXYETHYL DIMETHICONE ● TRIHYDROXYSTEARIN ● SODIUM HYALURONATE ● ALUMINA ● ALCOHOL ● ISOPROPYL TITANIUM TRIISOSTEARATE ● PROPYLENE GLYCOL ● HYDROXYPALMITOYL SPHINGANINE ● HYDROXYPROPYL TETRAHYDROPYRANTRIOL ● SYNTHETIC WAX ● ETHYLHEXYL PALMITATE ● TOCOPHEROL ● TOCOPHERYL ACETATE ● PENTAERYTHRITYL TETRA-DI-T-BUTYL HYDROXYHYDROCINNAMATE ● CI 15850 / RED 7 ● CI 77492 / IRON OXIDES ● CI 77499 / IRON OXIDES ● GERANIOL ● HYDROXYCITRONELLAL ● CITRONELLOL ● HEXYL CINNAMAL ● BENZYL ALCOHOL ● PARFUM / FRAGRANCE ●
282 - TOUT DOUX
DIMETHICONE ● BIS-DIGLYCERYL POLYACYLADIPATE-2 ● PHENYL TRIMETHICONE ● HYDROGENATED POLYISOBUTENE ● TRIDECYL TRIMELLITATE ● ISOHEXADECANE ● HYDROGENATED JOJOBA OIL ● DIMETHICONE CROSSPOLYMER ● METHYLSILANOL/SILICATE CROSSPOLYMER ● ISOSTEARYL ISOSTEARATE ● PARAFFIN ● MICA ● KAOLIN ● NYLON-12 ● VINYL DIMETHICONE/METHICONE SILSESQUIOXANE CROSSPOLYMER ● CERA MICROCRISTALLINA / MICROCRYSTALLINE WAX / CIRE MICROCRISTALLINE ● CI 77891 / TITANIUM DIOXIDE ● CI 77491 / IRON OXIDES ● POLYETHYLENE ● ROSA CENTIFOLIA FLOWER EXTRACT ● ROSA DAMASCENA FLOWER OIL ● AQUA / WATER / EAU ● GLUCOMANNAN ● TRIETHOXYSILYLETHYL POLYDIMETHYLSILOXYETHYL DIMETHICONE ● TRIHYDROXYSTEARIN ● SODIUM HYALURONATE ● ALUMINA ● ALCOHOL ● ISOPROPYL TITANIUM TRIISOSTEARATE ● PROPYLENE GLYCOL ● HYDROXYPALMITOYL SPHINGANINE ● HYDROXYPROPYL TETRAHYDROPYRANTRIOL ● SYNTHETIC WAX ● ETHYLHEXYL PALMITATE ● TOCOPHEROL ● TOCOPHERYL ACETATE ● PENTAERYTHRITYL TETRA-DI-T-BUTYL HYDROXYHYDROCINNAMATE ● CI 15850 / RED 7 ● CI 77492 / IRON OXIDES ● CI 77499 / IRON OXIDES ● GERANIOL ● HYDROXYCITRONELLAL ● CITRONELLOL ● HEXYL CINNAMAL ● BENZYL ALCOHOL ● PARFUM / FRAGRANCE ●
289 - FRENCH PELUCHE
DIMETHICONE ● BIS-DIGLYCERYL POLYACYLADIPATE-2 ● PHENYL TRIMETHICONE ● HYDROGENATED POLYISOBUTENE ● TRIDECYL TRIMELLITATE ● ISOHEXADECANE ● HYDROGENATED JOJOBA OIL ● DIMETHICONE CROSSPOLYMER ● METHYLSILANOL/SILICATE CROSSPOLYMER ● ISOSTEARYL ISOSTEARATE ● CI 77491 / IRON OXIDES ● PARAFFIN ● MICA ● KAOLIN ● NYLON-12 ● VINYL DIMETHICONE/METHICONE SILSESQUIOXANE CROSSPOLYMER ● CERA MICROCRISTALLINA / MICROCRYSTALLINE WAX / CIRE MICROCRISTALLINE ● POLYETHYLENE ● ROSA CENTIFOLIA FLOWER EXTRACT ● ROSA DAMASCENA FLOWER OIL ● AQUA / WATER / EAU ● GLUCOMANNAN ● TRIETHOXYSILYLETHYL POLYDIMETHYLSILOXYETHYL DIMETHICONE ● TRIHYDROXYSTEARIN ● SODIUM HYALURONATE ● ALUMINA ● ALCOHOL ● ISOPROPYL TITANIUM TRIISOSTEARATE ● PROPYLENE GLYCOL ● HYDROXYPALMITOYL SPHINGANINE ● HYDROXYPROPYL TETRAHYDROPYRANTRIOL ● SYNTHETIC WAX ● ETHYLHEXYL PALMITATE ● TOCOPHEROL ● TOCOPHERYL ACETATE ● PENTAERYTHRITYL TETRA-DI-T-BUTYL HYDROXYHYDROCINNAMATE ● CI 15850 / RED 7 ● CI 15985 / YELLOW 6 LAKE ● CI 45380 / RED 22 LAKE ● CI 77499 / IRON OXIDES ● CI 77891 / TITANIUM DIOXIDE ● GERANIOL ● HYDROXYCITRONELLAL ● CITRONELLOL ● HEXYL CINNAMAL ● BENZYL ALCOHOL ● PARFUM / FRAGRANCE ●
299 - FRENCH CASHMERE
DIMETHICONE ● BIS-DIGLYCERYL POLYACYLADIPATE-2 ● PHENYL TRIMETHICONE ● HYDROGENATED POLYISOBUTENE ● TRIDECYL TRIMELLITATE ● ISOHEXADECANE ● HYDROGENATED JOJOBA OIL ● DIMETHICONE CROSSPOLYMER ● METHYLSILANOL/SILICATE CROSSPOLYMER ● ISOSTEARYL ISOSTEARATE ● PARAFFIN ● MICA ● KAOLIN ● NYLON-12 ● VINYL DIMETHICONE/METHICONE SILSESQUIOXANE CROSSPOLYMER ● CERA MICROCRISTALLINA / MICROCRYSTALLINE WAX / CIRE MICROCRISTALLINE ● CI 77491 / IRON OXIDES ● CI 77492 / IRON OXIDES ● POLYETHYLENE ● ROSA CENTIFOLIA FLOWER EXTRACT ● ROSA DAMASCENA FLOWER OIL ● AQUA / WATER / EAU ● GLUCOMANNAN ● TRIETHOXYSILYLETHYL POLYDIMETHYLSILOXYETHYL DIMETHICONE ● TRIHYDROXYSTEARIN ● SODIUM HYALURONATE ● ALUMINA ● ALCOHOL ● ISOPROPYL TITANIUM TRIISOSTEARATE ● PROPYLENE GLYCOL ● HYDROXYPALMITOYL SPHINGANINE ● HYDROXYPROPYL TETRAHYDROPYRANTRIOL ● SYNTHETIC WAX ● ETHYLHEXYL PALMITATE ● TOCOPHEROL ● TOCOPHERYL ACETATE ● PENTAERYTHRITYL TETRA-DI-T-BUTYL HYDROXYHYDROCINNAMATE ● CI 15850 / RED 7 ● CI 15985 / YELLOW 6 LAKE ● CI 77499 / IRON OXIDES ● CI 77891 / TITANIUM DIOXIDE ● GERANIOL ● HYDROXYCITRONELLAL ● CITRONELLOL ● HEXYL CINNAMAL ● BENZYL ALCOHOL ● PARFUM / FRAGRANCE ●
330 - MILKY BISOU
DIMETHICONE ● BIS-DIGLYCERYL POLYACYLADIPATE-2 ● PHENYL TRIMETHICONE ● HYDROGENATED POLYISOBUTENE ● TRIDECYL TRIMELLITATE ● ISOHEXADECANE ● HYDROGENATED JOJOBA OIL ● DIMETHICONE CROSSPOLYMER ● METHYLSILANOL/SILICATE CROSSPOLYMER ● ISOSTEARYL ISOSTEARATE ● PARAFFIN ● CI 77491 / IRON OXIDES ● MICA ● KAOLIN ● NYLON-12 ● VINYL DIMETHICONE/METHICONE SILSESQUIOXANE CROSSPOLYMER ● CERA MICROCRISTALLINA / MICROCRYSTALLINE WAX / CIRE MICROCRISTALLINE ● CI 77492 / IRON OXIDES ● POLYETHYLENE ● ROSA CENTIFOLIA FLOWER EXTRACT ● ROSA DAMASCENA FLOWER OIL ● AQUA / WATER / EAU ● GLUCOMANNAN ● TRIETHOXYSILYLETHYL POLYDIMETHYLSILOXYETHYL DIMETHICONE ● TRIHYDROXYSTEARIN ● SODIUM HYALURONATE ● ALCOHOL ● ISOPROPYL TITANIUM TRIISOSTEARATE ● PROPYLENE GLYCOL ● HYDROXYPALMITOYL SPHINGANINE ● HYDROXYPROPYL TETRAHYDROPYRANTRIOL ● SYNTHETIC WAX ● ETHYLHEXYL PALMITATE ● TOCOPHEROL ● TOCOPHERYL ACETATE ● PENTAERYTHRITYL TETRA-DI-T-BUTYL HYDROXYHYDROCINNAMATE ● CI 15850 / RED 7 ● CI 15985 / YELLOW 6 LAKE ● CI 77499 / IRON OXIDES ● GERANIOL ● HYDROXYCITRONELLAL ● CITRONELLOL ● HEXYL CINNAMAL ● BENZYL ALCOHOL ● PARFUM / FRAGRANCE ●
344 - PLUSH ROSE
DIMETHICONE ● BIS-DIGLYCERYL POLYACYLADIPATE-2 ● PHENYL TRIMETHICONE ● HYDROGENATED POLYISOBUTENE ● TRIDECYL TRIMELLITATE ● ISOHEXADECANE ● HYDROGENATED JOJOBA OIL ● DIMETHICONE CROSSPOLYMER ● METHYLSILANOL/SILICATE CROSSPOLYMER ● ISOSTEARYL ISOSTEARATE ● PARAFFIN ● CI 45410 / RED 28 LAKE ● MICA ● KAOLIN ● NYLON-12 ● VINYL DIMETHICONE/METHICONE SILSESQUIOXANE CROSSPOLYMER ● CERA MICROCRISTALLINA / MICROCRYSTALLINE WAX / CIRE MICROCRISTALLINE ● CI 45380 / RED 22 LAKE ● POLYETHYLENE ● ROSA CENTIFOLIA FLOWER EXTRACT ● ROSA DAMASCENA FLOWER OIL ● AQUA / WATER / EAU ● GLUCOMANNAN ● TRIETHOXYSILYLETHYL POLYDIMETHYLSILOXYETHYL DIMETHICONE ● TRIHYDROXYSTEARIN ● SODIUM HYALURONATE ● ALUMINA ● ALCOHOL ● ISOPROPYL TITANIUM TRIISOSTEARATE ● PROPYLENE GLYCOL ● HYDROXYPALMITOYL SPHINGANINE ● HYDROXYPROPYL TETRAHYDROPYRANTRIOL ● SYNTHETIC WAX ● ETHYLHEXYL PALMITATE ● TOCOPHEROL ● TOCOPHERYL ACETATE ● PENTAERYTHRITYL TETRA-DI-T-BUTYL HYDROXYHYDROCINNAMATE ● CI 15985 / YELLOW 6 LAKE ● CI 77492 / IRON OXIDES ● CI 77891 / TITANIUM DIOXIDE ● GERANIOL ● HYDROXYCITRONELLAL ● CITRONELLOL ● HEXYL CINNAMAL ● BENZYL ALCOHOL ● PARFUM / FRAGRANCE ●
352 - ROSE FONDU
DIMETHICONE ● BIS-DIGLYCERYL POLYACYLADIPATE-2 ● PHENYL TRIMETHICONE ● HYDROGENATED POLYISOBUTENE ● TRIDECYL TRIMELLITATE ● ISOHEXADECANE ● HYDROGENATED JOJOBA OIL ● DIMETHICONE CROSSPOLYMER ● METHYLSILANOL/SILICATE CROSSPOLYMER ● ISOSTEARYL ISOSTEARATE ● PARAFFIN ● CI 77891 / TITANIUM DIOXIDE ● MICA ● KAOLIN ● NYLON-12 ● VINYL DIMETHICONE/METHICONE SILSESQUIOXANE CROSSPOLYMER ● CERA MICROCRISTALLINA / MICROCRYSTALLINE WAX / CIRE MICROCRISTALLINE ● POLYETHYLENE ● ROSA CENTIFOLIA FLOWER EXTRACT ● ROSA DAMASCENA FLOWER OIL ● AQUA / WATER / EAU ● GLUCOMANNAN ● TRIETHOXYSILYLETHYL POLYDIMETHYLSILOXYETHYL DIMETHICONE ● TRIHYDROXYSTEARIN ● SODIUM HYALURONATE ● ALUMINA ● ALCOHOL ● ISOPROPYL TITANIUM TRIISOSTEARATE ● PROPYLENE GLYCOL ● HYDROXYPALMITOYL SPHINGANINE ● HYDROXYPROPYL TETRAHYDROPYRANTRIOL ● SYNTHETIC WAX ● ETHYLHEXYL PALMITATE ● TOCOPHEROL ● TOCOPHERYL ACETATE ● PENTAERYTHRITYL TETRA-DI-T-BUTYL HYDROXYHYDROCINNAMATE ● CI 15850 / RED 7 ● CI 45380 / RED 22 LAKE ● CI 77491 / IRON OXIDES ● CI 19140 / YELLOW 5 LAKE ● GERANIOL ● HYDROXYCITRONELLAL ● CITRONELLOL ● HEXYL CINNAMAL ● BENZYL ALCOHOL ● PARFUM / FRAGRANCE ●
362 - KNITTED RED
DIMETHICONE ● BIS-DIGLYCERYL POLYACYLADIPATE-2 ● PHENYL TRIMETHICONE ● HYDROGENATED POLYISOBUTENE ● TRIDECYL TRIMELLITATE ● ISOHEXADECANE ● HYDROGENATED JOJOBA OIL ● DIMETHICONE CROSSPOLYMER ● METHYLSILANOL/SILICATE CROSSPOLYMER ● ISOSTEARYL ISOSTEARATE ● PARAFFIN ● MICA ● KAOLIN ● NYLON-12 ● VINYL DIMETHICONE/METHICONE SILSESQUIOXANE CROSSPOLYMER ● CERA MICROCRISTALLINA / MICROCRYSTALLINE WAX / CIRE MICROCRISTALLINE ● CI 15985 / YELLOW 6 LAKE ● CI 15850 / RED 7 ● POLYETHYLENE ● ROSA CENTIFOLIA FLOWER EXTRACT ● ROSA DAMASCENA FLOWER OIL ● AQUA / WATER / EAU ● GLUCOMANNAN ● TRIETHOXYSILYLETHYL POLYDIMETHYLSILOXYETHYL DIMETHICONE ● TRIHYDROXYSTEARIN ● SODIUM HYALURONATE ● ALUMINA ● ALCOHOL ● ISOPROPYL TITANIUM TRIISOSTEARATE ● PROPYLENE GLYCOL ● HYDROXYPALMITOYL SPHINGANINE ● HYDROXYPROPYL TETRAHYDROPYRANTRIOL ● SYNTHETIC WAX ● ETHYLHEXYL PALMITATE ● TOCOPHEROL ● TOCOPHERYL ACETATE ● PENTAERYTHRITYL TETRA-DI-T-BUTYL HYDROXYHYDROCINNAMATE ● CI 45380 / RED 22 LAKE ● CI 77491 / IRON OXIDES ● CI 77492 / IRON OXIDES ● CI 77499 / IRON OXIDES ● CI 77891 / TITANIUM DIOXIDE ● GERANIOL ● HYDROXYCITRONELLAL ● CITRONELLOL ● HEXYL CINNAMAL ● BENZYL ALCOHOL ● PARFUM / FRAGRANCE ●
388 - ROSE LANCÖME
DIMETHICONE ● BIS-DIGLYCERYL POLYACYLADIPATE-2 ● PHENYL TRIMETHICONE ● HYDROGENATED POLYISOBUTENE ● TRIDECYL TRIMELLITATE ● ISOHEXADECANE ● METHYLSILANOL/SILICATE CROSSPOLYMER ● HYDROGENATED JOJOBA OIL ● DIMETHICONE CROSSPOLYMER ● CI 45410 / RED 28 LAKE ● ISOSTEARYL ISOSTEARATE ● PARAFFIN ● CERA MICROCRISTALLINA / MICROCRYSTALLINE WAX / CIRE MICROCRISTALLINE ● KAOLIN ● NYLON-12 ● VINYL DIMETHICONE/METHICONE SILSESQUIOXANE CROSSPOLYMER ● POLYETHYLENE ● ROSA CENTIFOLIA FLOWER EXTRACT ● ROSA DAMASCENA FLOWER OIL ● AQUA / WATER / EAU ● GLUCOMANNAN ● TRIETHOXYSILYLETHYL POLYDIMETHYLSILOXYETHYL DIMETHICONE ● TRIHYDROXYSTEARIN ● SODIUM HYALURONATE ● ALCOHOL ● ISOPROPYL TITANIUM TRIISOSTEARATE ● PROPYLENE GLYCOL ● HYDROXYPALMITOYL SPHINGANINE ● HYDROXYPROPYL TETRAHYDROPYRANTRIOL ● SYNTHETIC WAX ● ETHYLHEXYL PALMITATE ● TOCOPHEROL ● TOCOPHERYL ACETATE ● PENTAERYTHRITYL TETRA-DI-T-BUTYL HYDROXYHYDROCINNAMATE ● CI 15850 / RED 7 ● CI 15985 / YELLOW 6 LAKE ● CI 45380 / RED 22 LAKE ● CI 42090 / BLUE 1 LAKE ● GERANIOL ● HYDROXYCITRONELLAL ● CITRONELLOL ● HEXYL CINNAMAL ● BENZYL ALCOHOL ● PARFUM / FRAGRANCE ●
464 - TENDRE POURPRE
DIMETHICONE ● BIS-DIGLYCERYL POLYACYLADIPATE-2 ● PHENYL TRIMETHICONE ● HYDROGENATED POLYISOBUTENE ● TRIDECYL TRIMELLITATE ● ISOHEXADECANE ● HYDROGENATED JOJOBA OIL ● DIMETHICONE CROSSPOLYMER ● METHYLSILANOL/SILICATE CROSSPOLYMER ● ISOSTEARYL ISOSTEARATE ● PARAFFIN ● MICA ● KAOLIN ● NYLON-12 ● VINYL DIMETHICONE/METHICONE SILSESQUIOXANE CROSSPOLYMER ● CERA MICROCRISTALLINA / MICROCRYSTALLINE WAX / CIRE MICROCRISTALLINE ● CI 15850 / RED 7 ● POLYETHYLENE ● ROSA CENTIFOLIA FLOWER EXTRACT ● ROSA DAMASCENA FLOWER OIL ● AQUA / WATER / EAU ● GLUCOMANNAN ● TRIETHOXYSILYLETHYL POLYDIMETHYLSILOXYETHYL DIMETHICONE ● TRIHYDROXYSTEARIN ● SODIUM HYALURONATE ● ALCOHOL ● ISOPROPYL TITANIUM TRIISOSTEARATE ● PROPYLENE GLYCOL ● HYDROXYPALMITOYL SPHINGANINE ● HYDROXYPROPYL TETRAHYDROPYRANTRIOL ● SYNTHETIC WAX ● ETHYLHEXYL PALMITATE ● TOCOPHEROL ● TOCOPHERYL ACETATE ● PENTAERYTHRITYL TETRA-DI-T-BUTYL HYDROXYHYDROCINNAMATE ● CI 15985 / YELLOW 6 LAKE ● CI 45410 / RED 28 LAKE ● CI 77499 / IRON OXIDES ● CI 42090 / BLUE 1 LAKE ● GERANIOL ● HYDROXYCITRONELLAL ● CITRONELLOL ● HEXYL CINNAMAL ● BENZYL ALCOHOL ● PARFUM / FRAGRANCE ●
505 - ATTRAPE CŒUR
DIMETHICONE ● BIS-DIGLYCERYL POLYACYLADIPATE-2 ● PHENYL TRIMETHICONE ● HYDROGENATED POLYISOBUTENE ● TRIDECYL TRIMELLITATE ● ISOHEXADECANE ● HYDROGENATED JOJOBA OIL ● DIMETHICONE CROSSPOLYMER ● METHYLSILANOL/SILICATE CROSSPOLYMER ● ISOSTEARYL ISOSTEARATE ● PARAFFIN ● CI 15985 / YELLOW 6 LAKE ● MICA ● KAOLIN ● NYLON-12 ● VINYL DIMETHICONE/METHICONE SILSESQUIOXANE CROSSPOLYMER ● CERA MICROCRISTALLINA / MICROCRYSTALLINE WAX / CIRE MICROCRISTALLINE ● POLYETHYLENE ● ROSA CENTIFOLIA FLOWER EXTRACT ● ROSA DAMASCENA FLOWER OIL ● AQUA / WATER / EAU ● GLUCOMANNAN ● TRIETHOXYSILYLETHYL POLYDIMETHYLSILOXYETHYL DIMETHICONE ● TRIHYDROXYSTEARIN ● SODIUM HYALURONATE ● ALUMINA ● ALCOHOL ● ISOPROPYL TITANIUM TRIISOSTEARATE ● PROPYLENE GLYCOL ● HYDROXYPALMITOYL SPHINGANINE ● HYDROXYPROPYL TETRAHYDROPYRANTRIOL ● SYNTHETIC WAX ● ETHYLHEXYL PALMITATE ● TOCOPHEROL ● TOCOPHERYL ACETATE ● PENTAERYTHRITYL TETRA-DI-T-BUTYL HYDROXYHYDROCINNAMATE ● CI 15850 / RED 7 ● CI 45380 / RED 22 LAKE ● CI 77499 / IRON OXIDES ● CI 77891 / TITANIUM DIOXIDE ● GERANIOL ● HYDROXYCITRONELLAL ● CITRONELLOL ● HEXYL CINNAMAL ● BENZYL ALCOHOL ● PARFUM / FRAGRANCE ●
525 - FRENCH BISOU
DIMETHICONE ● BIS-DIGLYCERYL POLYACYLADIPATE-2 ● PHENYL TRIMETHICONE ● HYDROGENATED POLYISOBUTENE ● TRIDECYL TRIMELLITATE ● ISOHEXADECANE ● METHYLSILANOL/SILICATE CROSSPOLYMER ● HYDROGENATED JOJOBA OIL ● DIMETHICONE CROSSPOLYMER ● ISOSTEARYL ISOSTEARATE ● PARAFFIN ● CERA MICROCRISTALLINA / MICROCRYSTALLINE WAX / CIRE MICROCRISTALLINE ● KAOLIN ● NYLON-12 ● VINYL DIMETHICONE/METHICONE SILSESQUIOXANE CROSSPOLYMER ● CI 15985 / YELLOW 6 LAKE ● CI 15850 / RED 7 ● CI 45410 / RED 28 LAKE ● POLYETHYLENE ● ROSA CENTIFOLIA FLOWER EXTRACT ● ROSA DAMASCENA FLOWER OIL ● AQUA / WATER / EAU ● GLUCOMANNAN ● TRIETHOXYSILYLETHYL POLYDIMETHYLSILOXYETHYL DIMETHICONE ● TRIHYDROXYSTEARIN ● SODIUM HYALURONATE ● ALCOHOL ● ISOPROPYL TITANIUM TRIISOSTEARATE ● PROPYLENE GLYCOL ● HYDROXYPALMITOYL SPHINGANINE ● HYDROXYPROPYL TETRAHYDROPYRANTRIOL ● SYNTHETIC WAX ● ETHYLHEXYL PALMITATE ● TOCOPHEROL ● TOCOPHERYL ACETATE ● PENTAERYTHRITYL TETRA-DI-T-BUTYL HYDROXYHYDROCINNAMATE ● GERANIOL ● HYDROXYCITRONELLAL ● CITRONELLOL ● HEXYL CINNAMAL ● BENZYL ALCOHOL ● PARFUM / FRAGRANCE ●
888 - FRENCH IDOL
DIMETHICONE ● BIS-DIGLYCERYL POLYACYLADIPATE-2 ● PHENYL TRIMETHICONE ● HYDROGENATED POLYISOBUTENE ● TRIDECYL TRIMELLITATE ● ISOHEXADECANE ● HYDROGENATED JOJOBA OIL ● DIMETHICONE CROSSPOLYMER ● METHYLSILANOL/SILICATE CROSSPOLYMER ● ISOSTEARYL ISOSTEARATE ● PARAFFIN ● MICA ● KAOLIN ● NYLON-12 ● VINYL DIMETHICONE/METHICONE SILSESQUIOXANE CROSSPOLYMER ● CERA MICROCRISTALLINA / MICROCRYSTALLINE WAX / CIRE MICROCRISTALLINE ● CI 15850 / RED 7 ● CI 77491 / IRON OXIDES ● CI 15985 / YELLOW 6 LAKE ● POLYETHYLENE ● ROSA CENTIFOLIA FLOWER EXTRACT ● ROSA DAMASCENA FLOWER OIL ● AQUA / WATER / EAU ● GLUCOMANNAN ● TRIETHOXYSILYLETHYL POLYDIMETHYLSILOXYETHYL DIMETHICONE ● TRIHYDROXYSTEARIN ● SODIUM HYALURONATE ● ALUMINA ● ALCOHOL ● ISOPROPYL TITANIUM TRIISOSTEARATE ● PROPYLENE GLYCOL ● HYDROXYPALMITOYL SPHINGANINE ● HYDROXYPROPYL TETRAHYDROPYRANTRIOL ● SYNTHETIC WAX ● ETHYLHEXYL PALMITATE ● TOCOPHEROL ● TOCOPHERYL ACETATE ● PENTAERYTHRITYL TETRA-DI-T-BUTYL HYDROXYHYDROCINNAMATE ● CI 77499 / IRON OXIDES ● CI 77891 / TITANIUM DIOXIDE ● GERANIOL ● HYDROXYCITRONELLAL ● CITRONELLOL ● HEXYL CINNAMAL ● BENZYL ALCOHOL ● PARFUM / FRAGRANCE ●
Full ingredient list
bvseo_sdk, dw_cartridge, 18.2.0, p_sdk_3.2.0
CLOUD, getReviews, 0ms
reviews, product
bvseo-msg: java.lang.IllegalArgumentException: Service is not configured in Business Manager: undefined;