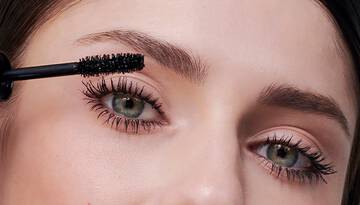 How To Apply A Mascara For Fuller Looking Lashes? A Beginners Guide
Do you want your makeup to look effortless and chic? A beautiful coat of mascara can do the trick for you! Be it the 'clean girl look' or a 'glam gal look', this holy grail product adds the perfect finishing touches. But knowing how to apply mascara perfectly is important.

When you apply mascara perfectly, it adds length and volume to your lashes. This gives dimension to your eyes, making them look bigger. On the flip side, if you apply mascara incorrectly, it can weigh down your lashes and make them look droopy.

If you want to get the most out of your mascara, follow the steps on how to put on mascara for beginners decoded by experts at Lancôme.
Steps On How To Apply Mascara On Eyes Perfectly
Before you learn how to use mascara, it's important to prep your lashes. Use a lash curler and curl your lashes. Hold your lashes in the curler for not more than five to seven seconds. Now let's learn how to put mascara on for beginners.
1. Pick Your Favourite Formula
If you feel that your lashes need a lengthening effect, pick a lengthening mascara like Lancôme's Hypnôse Doll Eyes Mascara. It has a unique cone-shaped brush that gives you a lifted, extended lashes look. On the other hand, if your lashes are sparse, you need volumising mascara. Try the Lancôme Grandiôse Mascara which is equipped with a high-precision brush that coats your lashes from root to tip.


2. Wipe Off The Excess Product
Does your mascara often clump up? Chances are you aren't following this crucial step. As you remove the mascara wand from the bottle, do not apply it straight away on your lashes. First, scrape off the excess product from the wand as it can easily clump your lashes instead of separating it. And now you are ready to apply the product to your eyelashes.


3. Coat The Upper & Lower Lash
Once you have enough product on the mascara wand, coat your upper lash. Start from the roots of your lashes and get as close to them as possible. Going in the upward direction towards the tips of your lashes.

Here the Hypnôse Drama Waterproof Mascara works flawlessly. It has a convex-designed brush that coats the lashes thoroughly and offers an irresistibly volumised look.


4. Go In With Second Coat
If you think your lashes need more product, go in with a second coat. Make sure to not overdo it as it can result in clumpy-looking lashes.
Tips To Apply Mascara For Beginners
Now that you know how to apply mascara on your eyes, here are some quick hacks for beginners to follow:
1. Never pump the wand in and out too many times. This can dry out the mascara inside the bottle quickly.

2. If you think your lashes look clumpy, take a clean spoolie or mascara brush and comb through the lashes. It can help in separating them.

3. Use a bending wand as it offers more precision.

4. To clear up any smudges, let the mascara dry first. Take a cotton bud and dip it in a makeup remover like Lancôme Bi-Facil Eye Makeup Remover to gently get rid of the smudges.
Applying mascara might look tricky at first. But with time, you will know how to apply mascara effortlessly. So, go ahead and purchase beautiful mascaras from our website. You can also avail 10% off on your first order and receive 2 complimentary samples on every purchase. Isn't that exciting? And, what's more? You can also gift these to your loved ones as we deliver them in a beautiful pink box. Shop at Lancôme and add a dramatic effect to your lashes now!