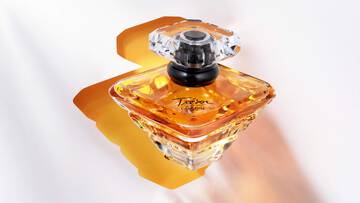 Top 3 Luxurious Bridal Perfumes For Every Indian Bride
Are you busy searching for bridal perfume for your wedding? It's an excellent way to mark the most cherishable day of your life. You would need a wedding perfume that makes you smell divine.

To help you etch this day's beautiful memory in your heart forever, Lancôme has concocted the top three long-lasting feminine perfumes for your wedding day. Each of these Lancôme perfumes are perfect for every spectacular Indian bride. As these perfumes are packaged in a luxe pink box, they make the perfect luxurious gifting option. What's more interesting? You can avail 10% off on your first order and get 2 complimentary samples on every order. Explore now!
Trésor Eau De Parfum - For The Bride Who Prefers Elegance
If you're someone who loves elegant floral fragrances then Trésor Eau De Parfum is the right pick! It is a signature perfume for young ladies with mesmerising notes of apricot blossom, rose, lilac, iris, and peach. It also leaves an impressionable trail of amber, sandalwood, musk, and vanilla. This long-lasting women's perfume is perfect for your wedding day. Gentlemen, if you are looking for the best perfume for your girlfriend or rather, your wife-to-be, then this is a perfect choice.
La Vie Est Belle Eau De Parfum - For The Joyous Bride
Planning to pick a vibrant perfume for your wedding day? Then go for La Vie Est Belle Eau De Parfum. It is one of the most attractive perfumes to give to a woman, who loves a sweet fragrance. It has notes of iris spring flowers, vanilla and patchouli. If you are someone looking for an exquisite gift, this luxury perfume for a female would serve the right purpose of a wedding perfume.
Trésor Midnight Rose Eau De Parfum - For The Mischievous Bride
Don't want to choose an average bridal perfume? You would love Trésor Midnight Rose Eau De Parfum. This women's perfume is famous among those who cherish a sweet-sexy blend of aromas. Its breathtaking notes of sparkling raspberry, sensual rose, vanilla and musk. This premium perfume for ladies can instantly evoke the feeling of everlasting love.
We hope with the excellent selection of the best wedding perfumes at Lancôme, your search has narrowed down. If the allure of any one of these feminine perfumes has sparked your interest, shop them now. Spritz on and celebrate the day of your dreams whilst smelling like an angel.